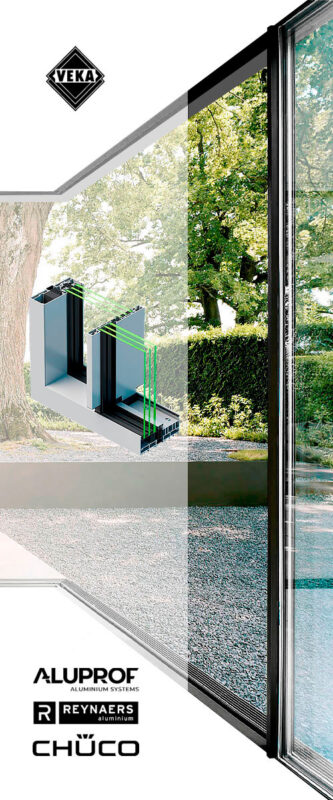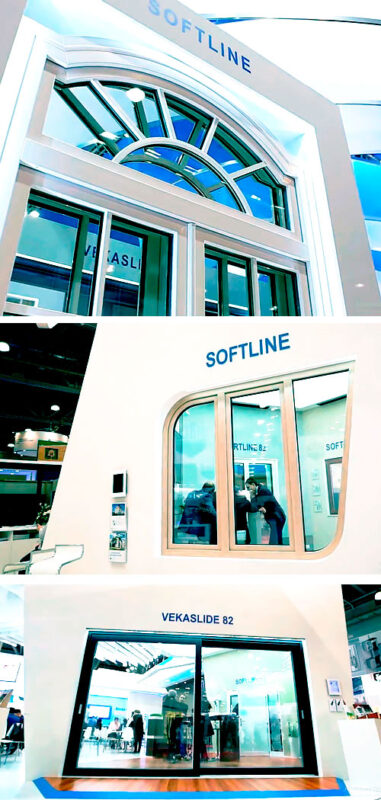 PREMIUM EUROPEAN WINDOWS AND DOORS | Toronto, London, Ottawa
ALEX VEKA ✔️ AN EXCLUSIVE IMPORTER & DISTRIBUTOR IN CANADA | ALEX VEKA GROUP OF FACTORIES
INNOVATIVE, HIGH ENERGY-EFFICIENT, EUROPEAN WINDOWS AND DOORS OF WORLD-CLASS QUALITY, ARE AVAILABLE FOR DEALERS, CONTRACTORS, AND PRIVATE CUSTOMERS IN ONTARIO & Québec | ift Rosenheim, PIV CERTIFICATES (Germany)
ALUMINUM WINDOWS & DOORS REYNAERS, SCHUCO, ALUPROF
European tilt-turn & sliding aluminum windows, front & patio doors, glass, and curtain-wall systems Schuco, Reynaers, and Aluprof. Our certified European professionals design, assemble and install premium European windows made with the best European components, processed with the world's leading, innovative, and robotic equipment. We use Saint-Gobain glass (France), premium aluminum systems Reynaers, Schuco, Aluprof with wide thermal bridges (Belgium, Germany, Poland), WinkHaus fittings (Germany), Swisspacer bars (Switzerland), etc. ALEX VEKA windows and installation are suitable for certified Passive Houses.

EUROPEAN VINYL WINDOWS & DOORS VEKA, SCHUCO
We offer high-quality European vinyl-metal windows, doors, and sliding glass walls based on Premium German systems VEKA, Rehau, and Schuco. Durable, double-pane and triple-pane windows (95% filled with Argon gas inside), with an ideal mirror-like glass surface without distortion. Sliding, fixed, and tilt-turn windows VEKA & Schuco are made with the highest level of thermal, water, sound, and wind insulation. 
EXCLUSIVE EUROPEAN ENTRANCE DOORS AND FRAMELESS GLASS
High energy efficient aluminum panel front doors with flat exterior shape surface, covered by glass, wood, precious metals, natural stone, marble, and other exclusive materials, equipped with smart device features and LED lights. Natural timber, wooden windows and doors. Frameless glass shower, interior, and office partitions. Glass doors, railings, and barriers. The patio glass roofs and sliding glass systems.
GET A PRICE QUOTE
OUR MISSION IN CANADA | ALEX VEKA ™
AS A FACTORY DIRECT IMPORT OFFICE, WE PROVIDE FAST & RELIABLE ASSEMBLING, SHIPPING, DELIVERY, AND INSTALLATION OF PREMIUM EUROPEAN HIGH-INSULATED EUROPEAN WINDOWS & DOORS. WE OFFER WHOLESALE PRICES FOR CONSTRUCTION COMPANIES, DEALERS & PARTNERS, AND AFFORDABLE RETAIL PRICEs FOR CORPORATE &
PRIVATE CUSTOMERS IN CANADA
Our mission is to produce and deliver the most innovative and technologically progressive European windows and doors for the customers living in Toronto, Ottawa, London, Montreal, and other Canadian cities. Cooperating with dealers, contractors, construction companies, installation workers, and retail clients, we offer factory direct purchasing and fast, reliable shipping. The delivery time is only 2-4 months from the date of the down payment, depending on the type of frame system. We also offer a 25-year limited warranty on aluminum and vinyl systems. A 10-year warranty on the final product is included as well.
CONTACTS
OUR PROJECTS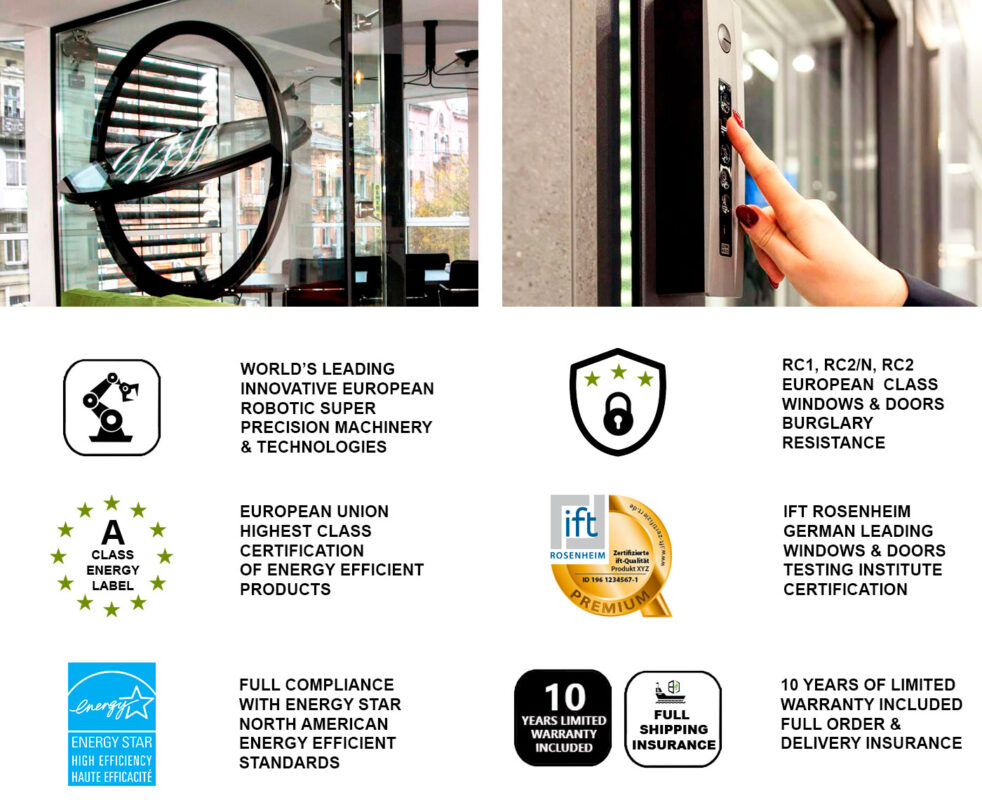 ALEX VEKA COMPANY DOESN'T USE ANY WINDOWS, DOORS, & GLASS COMPONENTS MADE IN RUSSIA, BELARUS, OR ANY OTHER SANCTIONS COUNTRIES OF ORIGIN! We express solidarity with our Ukrainian colleagues, their families and the entire Ukrainian people!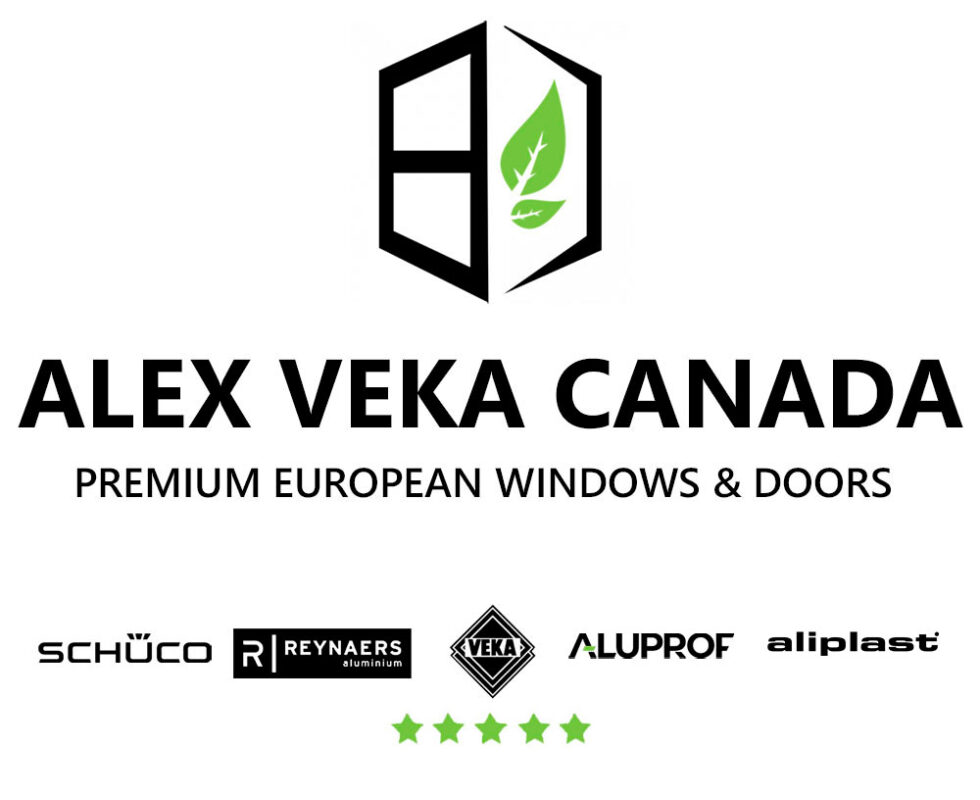 FACTORY VIDEO | ALEX VEKA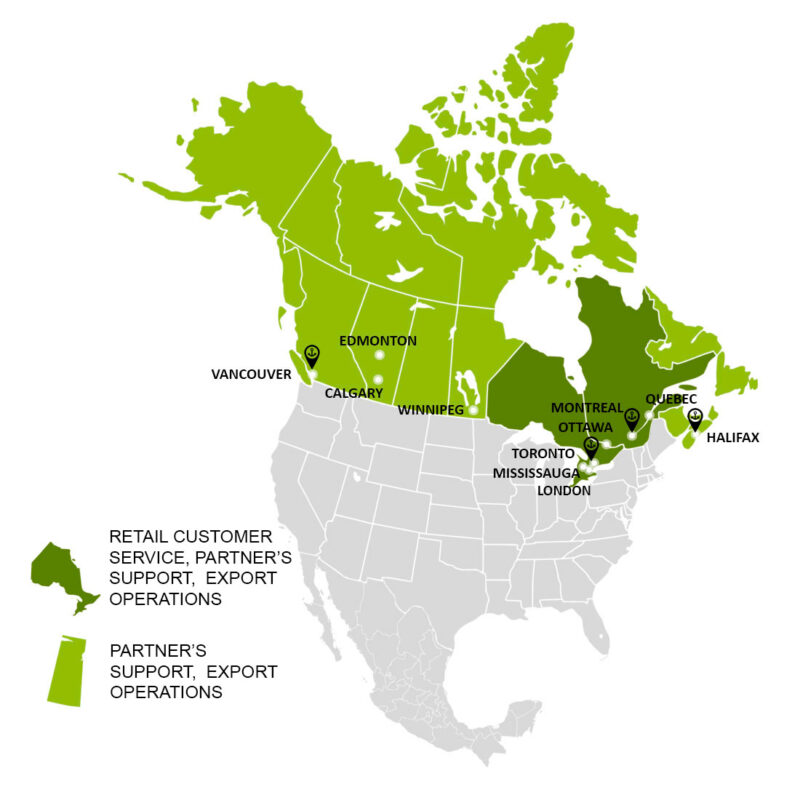 INNOVATIVE AUTOMATION TECHNOLOGIES
ALEX VEKA GROUP of factories applies the world's leading and innovative European window assembling technologies. Using automated gas filling machines LISEC ™ (Austria), we produce high-quality double & triple-pane glazing in a vertical mode (95 % Argon-gas saturation), with the ideal mirror-like surface without glass lensing and distortions.
Other innovative machinery, such as STURTZ ™ (Germany), and EMMEGI ™ (Italy), provide high-precise seamless welding of uPVC window angles (eliminates the need to apply additional seam treatment and painting), laser measuring, robotic profile & glass processing, cutting, and drilling.
EUROPEAN WINDOWS ARE THE BEST INVESTMENT
When it comes to energy efficiency, wind/water resistance, soundproofing, and physical durability, there are no stricter construction standards than the European ones. That has caused a huge difference between North American and European glazing products. Premium European tilt-turn / sliding windows and doors can fulfil the expectations of the most demanding customers, offering modern design, high energy efficiency, easy handling, and open panoramic views without boundaries. These products are made with due regard for future demand and property price changes.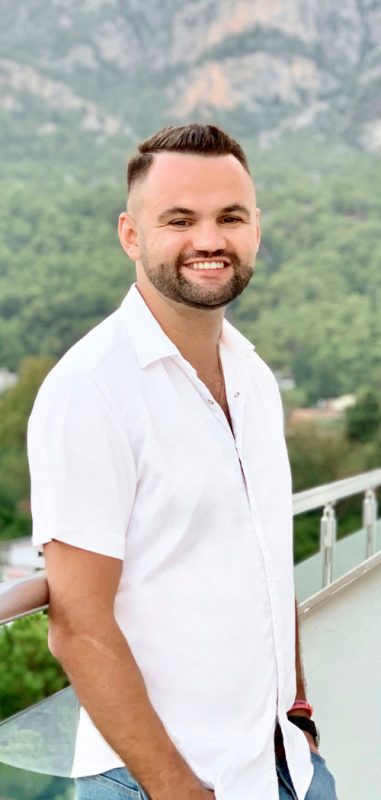 VOLODYMYR ROZHKOV | ALEX VEKA BOARD OF DIRECTORS MEMBER | HEAD OF IMPORT SALES IN CANADA
Building standards in Europe are stricter than those in Canada. That fact has caused a huge advantage of European glass products, in the quality, thermal efficiency, burglary resistance, and water/sound insulation.
ALEX VEKA CANADA offers European sliding & tilt-turn windows, doors, and glass facades of world-class quality in terms of energy efficiency, durability, physical/water/burglary resistance, and a gorgeous panoramic view.
Being a factory-direct international office, which is in charge of European windows replacement services, we design the projects, calculate the price, produce, load, ship, store, deliver, and install our premium windows and doors, providing professional European service, following customers' specific demands.
For partners and dealers, ALEX VEKA CANADA company offers unique representation service in all areas of Canada, providing exclusive sales rights to the best-qualified window specialists, willing to improve their skills, knowledge, and reputation. We provide daily control of dealers' service quality, train managers and installation teams, and provide digital marketing support. Our mission is to make energy-efficient glass products affordable and accessible for a greater number of Canadian customers.
Whatsapp
FB
E-maIL

LOCATION: OTTAWA, ONTARIO, CANADA
48 Holborn Ave, Nepean, ON K2C 3H1
MON-FRI: 09.00 -16.00 (EASTERN TIME EST/EDT).
The office is working online.
Google Maps Rate: 4,8 ★★★★★ 42 Google reviews
(343) 202 6858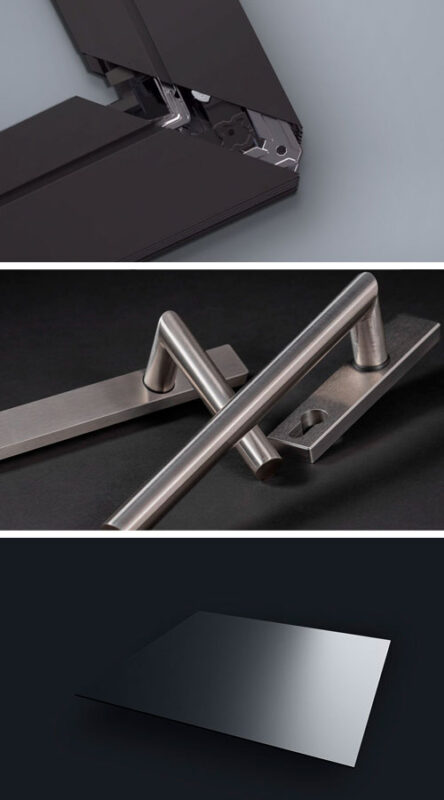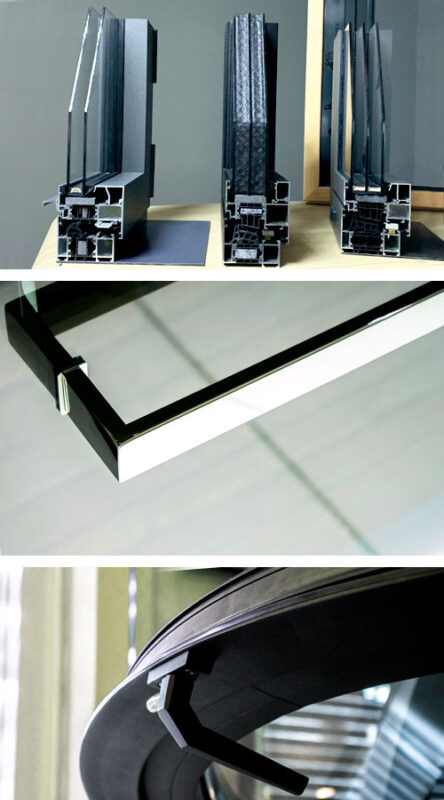 WHAT ARE THE ADVANTAGES OF ALUMINUM PROFILES?
EUROPEAN WINDOWS AND DOORS BASED ON ALUMINUM FRAMES WITH AN INNER THERMAL BRIDGE, IS THE BEST CHOICE WHEN IT COMES TO BUILD MODERN, EXCLUSIVE, HIGH ENERGY-EFFICIENT HOUSE WITH LUXURY & PANORAMIC GLASS SYSTEMS
Since the invention of cold aluminum window profiles in 1912, European aluminum systems have undergone many improvements. Modern European windows, such as Schuco, Reynaers, Aluprof, and Aliplast, are made with an additional multicellular polyamide thermal bridge inside. Their profile's inner space is filled with polystyrene warming materials.
The assembling width of aluminum profiles is increased up to 120 mm and the glazing surface is expanded up to 70 mm. Additional improvements are achieved by using special scratch-resistant powder paints, modern, tilt-turn, burglary-resistant fittings, smart access control systems, electronic drives, etc.

The unrivaled dominance of modern European aluminum windows, doors, and glass walls can be explained by nothing but impressive durability (up to 70 years), the use of environmentally friendly hypoallergenic materials, and the ability to create constructions of almost any size, using sashes/glass of up to the maximum weight. However, high energy-efficiency, soundproofing, waterproofing, and exclusive comfort of operating are their main advantages. That's why, European aluminum windows are suitable for use in Passive House-certified buildings, even in the Arctic regions of Canada.
MORE INFO
OUR PROJECTS
ALUMINUM SYSTEMS FEATURES
ALUMINUM WINDOWS & DOORS ARE TOP-RATED PREMIUM PRODUCTS CREATED FOR CUSTOMERS WHO CHOOSE COMFORT, NON-STANDARD DESIGN & ENERGY EFFICIENCY
Our customers appreciate the durability, high sound/water/thermal resistance, and unsurpassed individual design of European aluminum windows & doors with elegant thin frames and zero-level thresholds. Due to a broad choice of textures, colours, dividers, and premium covers, any design concept can be easily converted into reality.
Private and corporate clients, architects and exterior designers highly appreciate ALEX VEKA PREMIUM windows and doors, being aware of the high quality of the assembling components used, modern technologies applied, fast delivery, and unique characteristics letting put any architectural idea into practice.
Their only drawback is the high price. At the same time, European aluminum windows, glass walls, patio and front doors are indicators of high status, wealth, and progress.
DOUBLE- VS. TRIPLE-PANE GLAZING
DUE TO OUTDATED BUILDING STANDARDS, MOST HOUSES IN CANADA ARE EQUIPPED WITH DOUBLE- OR EVEN SINGLE-PANE WINDOWS, WHILE IN EUROPE, CUSTOMERS ARE MORE LIKELY TO CHOOSE TRIPLE-PANE GLAZING
One of the most important characteristics of modern windows and doors is their energy efficiency, which helps reduce heating costs in winter.
Double-pane glazing in vinyl, aluminum, or any other system does not meet minimal energy loss resistance standards for central climate zones of North America. That is why it is mostly used in southern regions with warm winters.
European aluminum energy-efficient systems with triple-pane glazing help reduce heating costs in winter and create a pleasant air balance inside the house without forming cold zones.
ALEX VEKA triple-pane glazing is produced inside an automated gas filling machine LISEC (Austria) in a vertical mode, using solid warm spacer bars. This allows creating an ideal mirror-like surface, preventing distortion, and filling the inner space with a 95 % argon gas.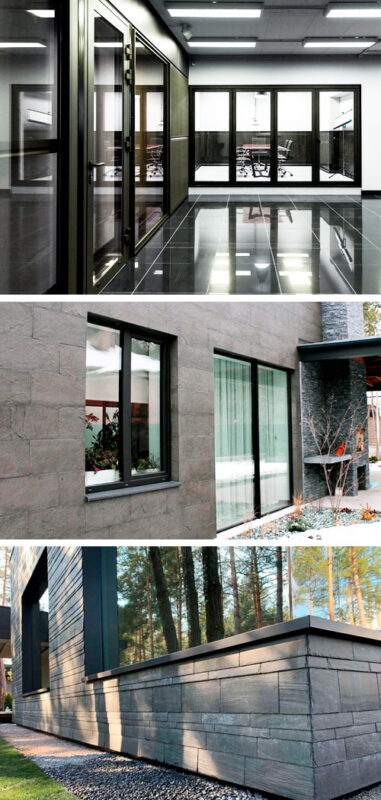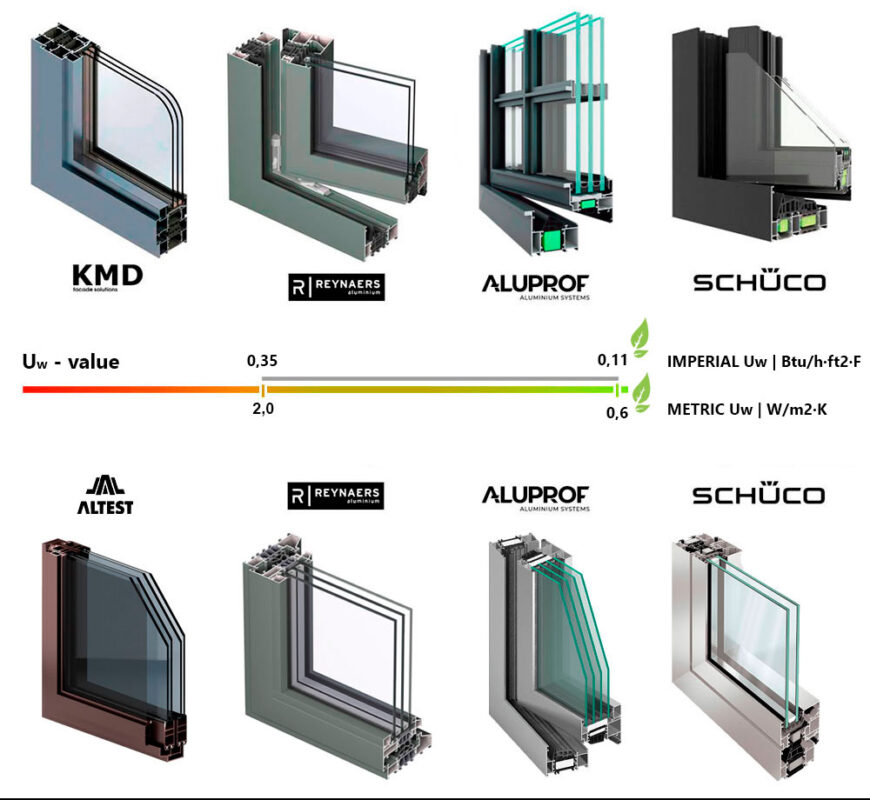 HIGH INSULATED EUROPEAN ALUMINIUM WINDOWS ALUPROF, SCHUCO, ALIPLAST, AND REYNAERS
Based on compliance with major window standards and requirements, we have chosen three leading European aluminum profile manufacturers. They are Aluprof, Schuco, and Reynaers.
Though different in many aspects (profile assembling width, filling, thermal bridge, wall thickness, maximum dimensions, prices), all these profile brands are good in their own right. The final decision has to be made only after detailed consultation with our specialists and discussing the features and dimensions of your premium windows and doors.
REYNAERS WINDOWS | TORONTO, OTTAWA, MONTREAL
ALUPROF WINDOWS | TORONTO, OTTAWA, MONTREAL
Our qualified window specialists are always ready to consult private and corporate customers in Toronto, Ottawa, Montreal, London, Québec, or other cities/towns of Ontario and Quebec provinces. Dealer and corporate cooperation, wholesale and tender export orders are available for all Canadian provinces.
SCHUCO WINDOWS | TORONTO, OTTAWA, MONTREAL
ALIPLAST WINDOWS | TORONTO, OTTAWA, MONTREAL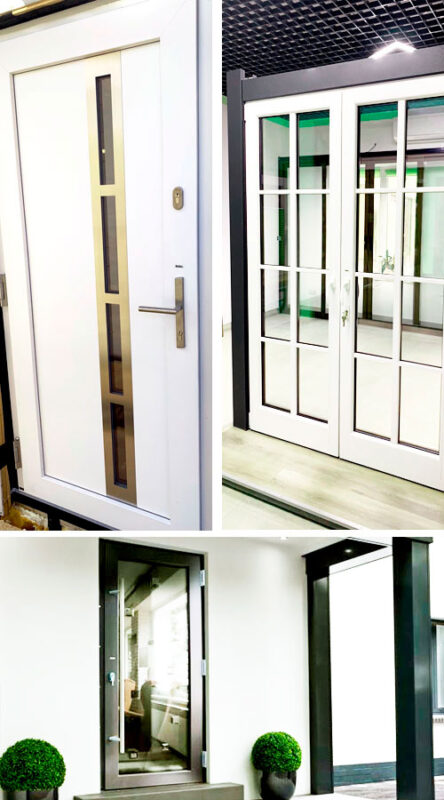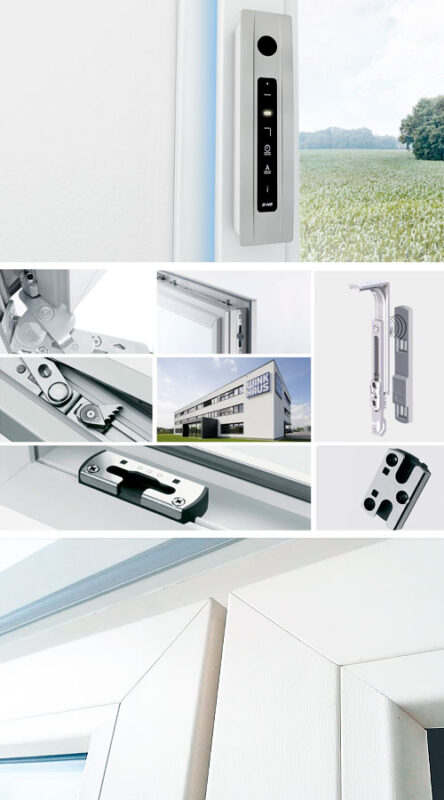 GERMAN ENERGY-EFFECTIVE VINYL WINDOWS✔️️ TORONTO, OTTAWA, MONTREAL
EUROPEAN VINYL WINDOWS & DOORS CAN BE A PERFECT CHOICE FOR CUSTOMERS IN SEARCH OF PREMIUM DESIGN & ENERGY-EFFICIENT GLASS SOLUTIONS AT FACTORY PRICES | OTTAWA, MONTREAL, TORONTO
We assemble, deliver, and install European vinyl windows made of original German VEKA & SCHUCO profiles of the highest class A (the external uPVC baffles are 3 mm in width). These vinyl extruded profiles are among the most frequently used profiles in the world, due to a wide range of multiple-chamber variations.
The quality and durability of uPVC/vinyl windows depend on many factors. The essential characteristics are the type, form, and width of a profile/steel reinforcement; fittings; glass and glazing components; assembly methods.

European window and door systems, such as VEKA Softline 82, VEKA Artline 82, Schüco LivIng, SCHÜCO Alu Inside NORDIC, are ideal energy-effective solutions even for the northern regions of Ontario, Quebeck, and all other Canadian provinces. Combined with a triple-pane or quadruple-pane glass, they can be used for Passive House-certified buildings, which don't require the additional source of heating.
BECOME A PARTNER
PRICE
WHY IS INNER METAL SO IMPORTANT FOR QUALITY VINYL WINDOWS?
PROPERLY MADE VINYL WINDOWS ARE ALWAYS HEAVY AND FIRM, WITH PERFECTLY PROCESSED PERFORATION & WELDS
While vinyl quality is a determinant factor for the heat-saving capacity and design, the firmness of the whole construction depends on metal reinforcement. Vinyl (uPVC plastic) is rather sensitive to any exterior temperature changes.
Under the sun heating in summer, vinyl heats up to 80 °C, while in winter its temperature is usually minus 10 – 30 °C. Under the temperature difference, the vinyl window shrinks or extends up to 7 mm for each meter. Without a thick and stable steel structure, the extension causes vinyl deformation, creating a gap between the frame and casement.
That's why it's impossible to create a high-thermal insulated window without a stable isolated metal inside. We use full-contour square steel reinforcement of 1,8 mm width for the frame and special triple-bended steel for the casement.
BURGLAR-PROOF WINDOWS WITH WINKHAUS FITTINGS RC1, RC2
WINKHAUS IS ONE OF THE WORLD'S LEADING FITTINGS MANUFACTURERS, WITH A HUGE RANGE OF SOLUTIONS
Fittings, locks and locking systems are the most important components for an ideal, secure, and successful work of windows and doors. While European vinyl systems Veka & Schuco and double / triple pane glass have the resource of the durability of up to 50 years, fittings & locks are more vulnerable elements.
WinkHaus assortment includes easyLock multi-point locking systems with mushroom head and eccentric cam for a turn, tilt-and-turn, and parallel-sliding windows, which assure the highest level of security and burglary resistance. Vinyl doors are equipped with sturdy steel hooks, and manual and electronic locking systems, suitable for "SMART HOUSE"
We offer premium European windows and doors that are certified by basic, RC1, and RC2 classes of burglary resistance (ift Rosenheim cert. | Germany).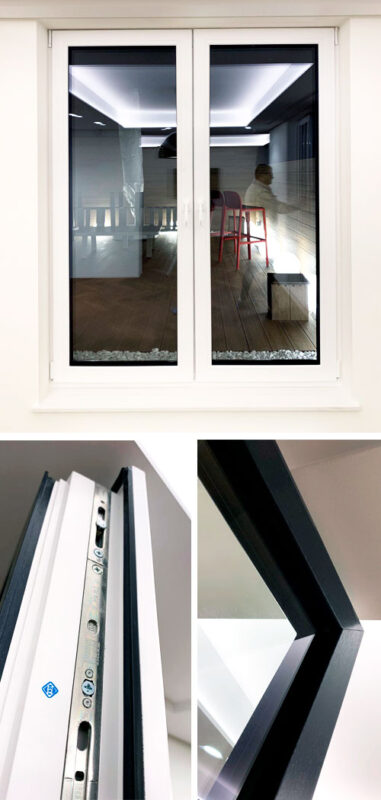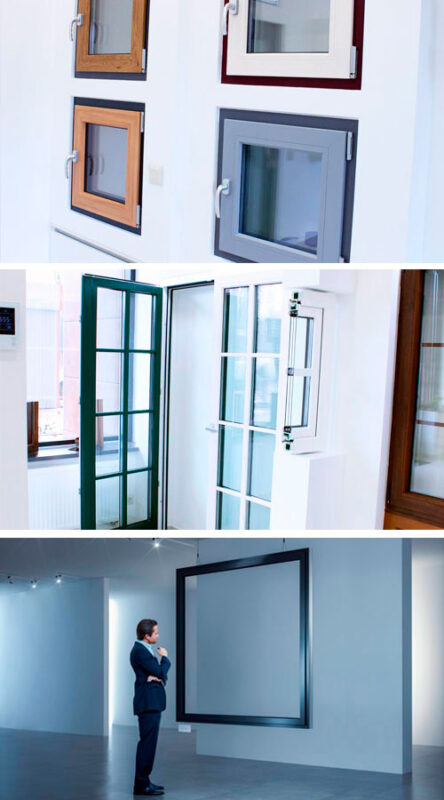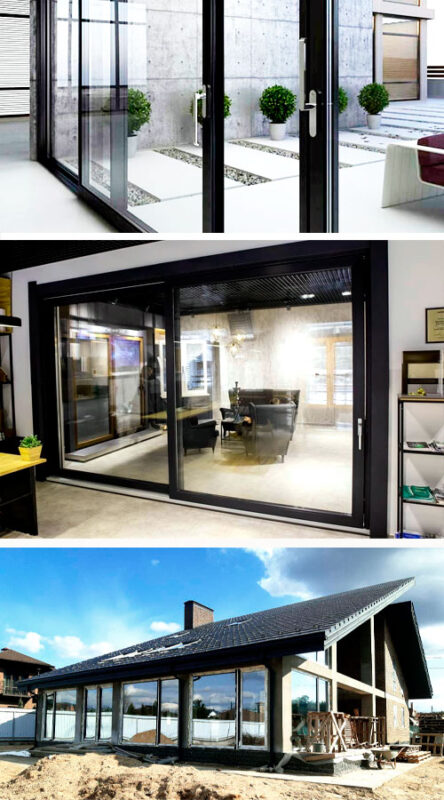 HOW TO ORDER EUROPEAN WINDOWS AT THE FACTORY PRICE? | TORONTO, OTTAWA, MONTREAL & OTHERS
ALEX VEKA company offers an amazing opportunity for construction companies, windows dealers, architectural bureaus, installation workers and private builders in Canada, to join the family of professional glazing suppliers of the world's leading windows and doors products.
Our representation office in Canada is working to help your managers, exterior / interior designers, and construction workers, to understand, calculate the price and to use the whole assortment and capabilities of our premium glass products for the most highly sophisticated and significant projects.

"ALEX VEKA PREMIUM | Canada" office provides equal dealer factory prices for all North American partners. Our professional specialists are working to provide you with the best options, balancing the price, design, and thermal efficiency. The manufacturing and shipping time of all glass products is 3-4 months only, which makes our partnership the most reliable in terms of time, quality, and price compliance.
Also, we offer lower retail prices for private clients for large-scale orders (from 10 items) with / without installation.
A WIDE RANGE OF EUROPEAN WINDOWS
Glass constructions are divided into various types by their features. The first and the most obvious classification is by opening type: window, door, fixed and sliding wall, glass facade, interior doors and partitions. Also, we can specify each construction type by the system brand and material – aluminum, wood, uPVC, or the combinations.
All these variations might be divided into separate classes by thermal efficiency, which is determined by the thickness and filling of the profile and glazing.
Making the best decision for your project is impossible without a deep understanding of the features, components, assembling and installation technologies. That's why, our professional managers are working to help you choose the best windows/doors system's type and brand, glass pane features, frame form and structure, additional decorative elements and design options.
CALL US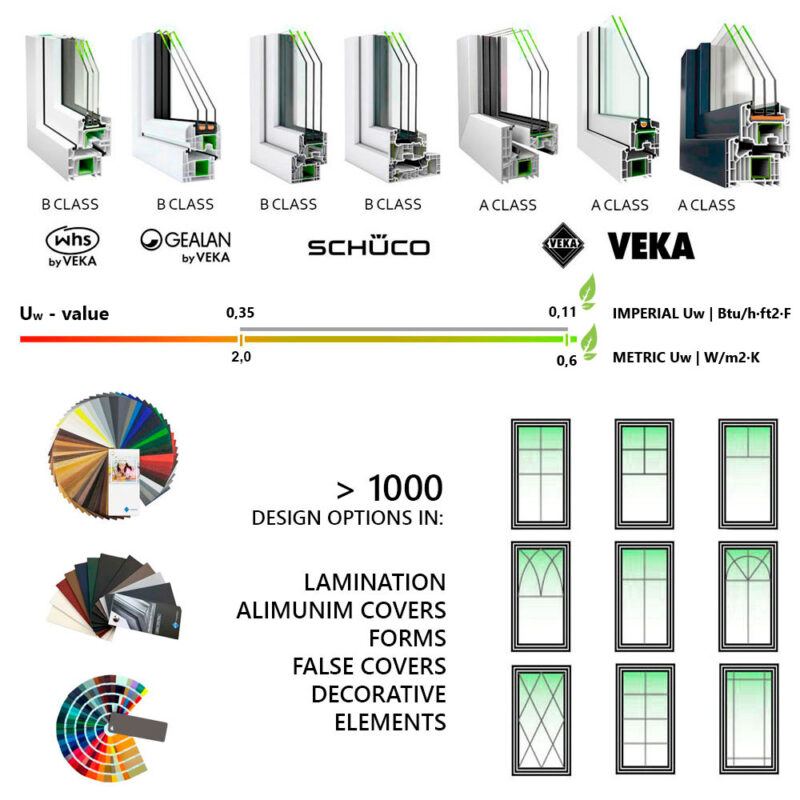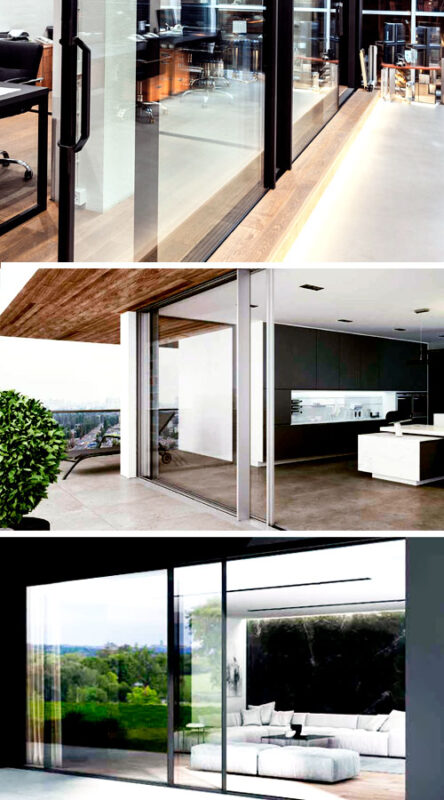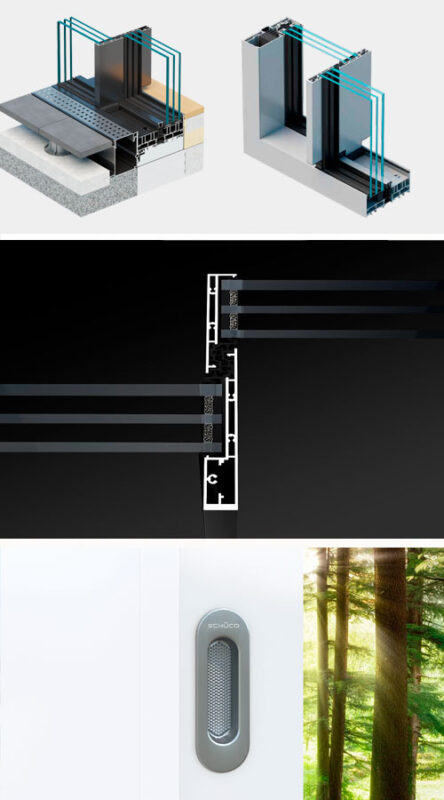 SLIDING PATIO DOORS | OTTAWA, MONTREAL, TORONTO
THERE ARE THREE TYPES OF SLIDING SYSTEMS – SLIDE DOORS, PARALLEL-SLIDE WINDOWS & LIFT-AND-SLIDE PATIO DOORS. THE DIFFERENCE AFFECTS THE PRICE AND THERMAL EFFICIENCY
European aluminum lift-and-slide patio doors are the essential Premium solution for any modern top-level house, as a panoramic entrance to the terrace, garden, patio or pool. As a trending European product with a durability of up to 70 years, it is becoming the best investment in the future, with the highest level of comfort and thermal resistance.
European aluminum patio doors reduce heating expenses in winter and increase the price of any modern house, which is especially profitable for houses located in Toronto, Montreal, Ottawa, Vancouver, Calgary, and other big cities of Canada.

A new generation of innovative European lift-and-slide patio doors Aluprof Skyline, Aluprof Skyline type R, and Reynaers Aluminium Hi-Finity are designed for those progressive people, who appreciate the magnificent nature view without limits. These systems imitate frameless designs with concealed frames, completely invisible door leaf profiles, zero-level thresholds and super-thin slender mullions.
GET A PRICE
OUR PROJECTS
EUROPEAN SLIDING WINDOWS IN TORONTO, OTTAWA, MONTREAL
EUROPEAN VINYL & ALUMINUM SLIDING SYSTEMS ARE THE BEST THERMAL INSULATED WINDOWS FOR PRIVATE HOUSE
European sliding windows are the most universal, thermally efficient, and easy-to-use type of professional glazing system. The casement of the sliding window is always clean, being inside the house. Also, it doesn't require a large opening radius and provides the option of full contour ventilation.
The main advantage of sliding windows for builders is the system's versatility. It lies in the usage of the same metal-plastic or aluminum profile systems used for tilt-and-turn windows.
Also, sliding windows provide the maximum level of water / sound / thermal insulation, and can be equipped with triple-pane glazing up to 60 mm in width. The price of such windows in Toronto, Ottawa, Montreal, and other cities, is higher compared to tilt-and-turn glazing systems. But the price difference is fully compensated by the premium design and comfort of use.
SLIDING DOORS VS LIFT-AND-SLIDE PATIO DOORS
SLIDING DOORS ARE FOR NON-INSULATED HOUSES, WHILE LIFT-AND-SLIDE DOORS ARE MADE FOR HIGH-INSULATED ONES
SLIDE-type of patio doors is a cheap and cold alternative to the lift-and-slide ones, which matches the clients' demands only in a conceptual meaning. The door leaf with double or triple glazing is moving on wheels along the rails, which protrude above the threshold level. When you turn the handle, the door leaf unblocks becoming movable in a left / right direction.
The slide-type of patio doors is cheap. But the technical features of the rails and the gaps between them, don`t let them be highly insulated. The threshold of the sliding door is always dirty, full of dust, and inconvenient to step on. 
Premium European LIFT-AND-SLIDE patio door is the best energy-insulated option, designed with elegant thin aluminum frames, a wide thermal bridge, and a zero-level threshold, easy to step on. The double or triple-pane glass leaf lifts down while the door is closing, preventing heat loss, and providing energy/water/sound insulation.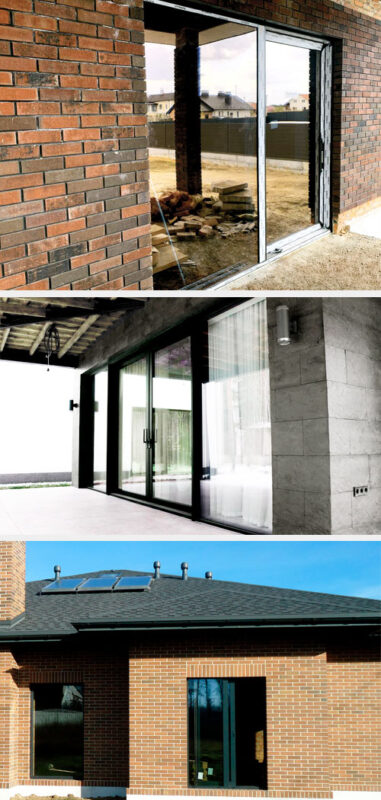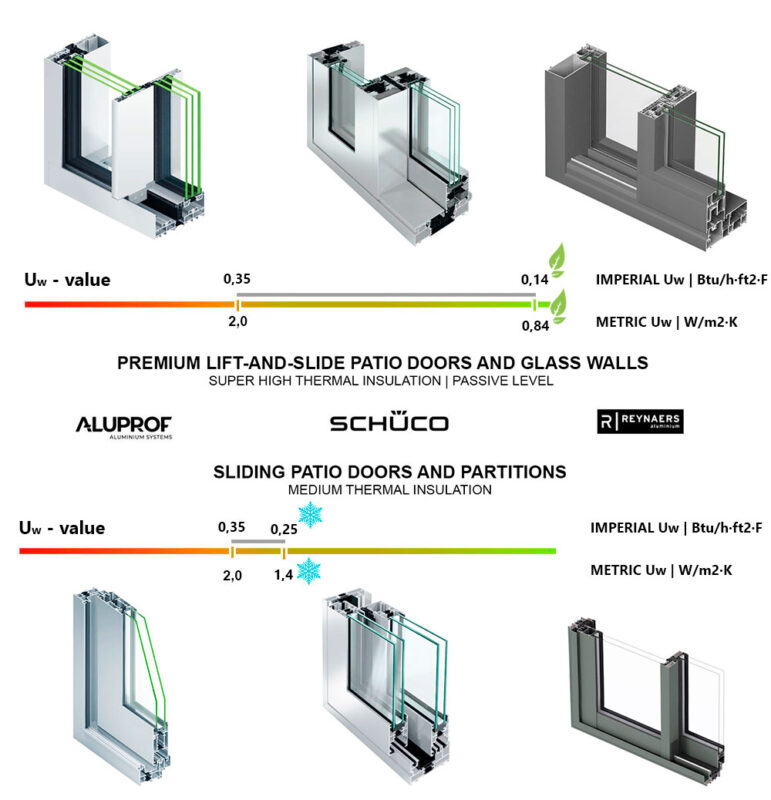 HOW TO BUY PREMIUM EUROPEAN PATIO DOORS ? TORONTO, OTTAWA, MONTREAL & OTHERS
European aluminum sliding windows and patio doors, and their installation is a very complicated, high-informative branch of the construction business. It is very important to make the right choice before the order because after the construction will be delivered and installed, it will be too late to make any changes.
REYNAERS PATIO DOORS | TORONTO, OTTAWA, MONTREAL
That is why our professional specialists are always trying to discuss even the smallest features of your future glazing and installation, with each client. That is a professional attitude to the glazing process and the best indicator, that windows and doors, their installation, delivery, package and other services, will be at the highest level. Details always affect the quality, price, design, thermal resistance, durability and comfort.
ALUPROF PATIO DOORS | TORONTO, OTTAWA, MONTREAL
SCHUCO PATIO DOORS | TORONTO, OTTAWA, MONTREAL
The final decision and price calculation have to be made after a personal meeting and the measurement of your house type, wall sizes and thermal insulation levels. We are open to visiting your house at any comfortable time for you. Call our manager for details.
CALL OUR MANAGER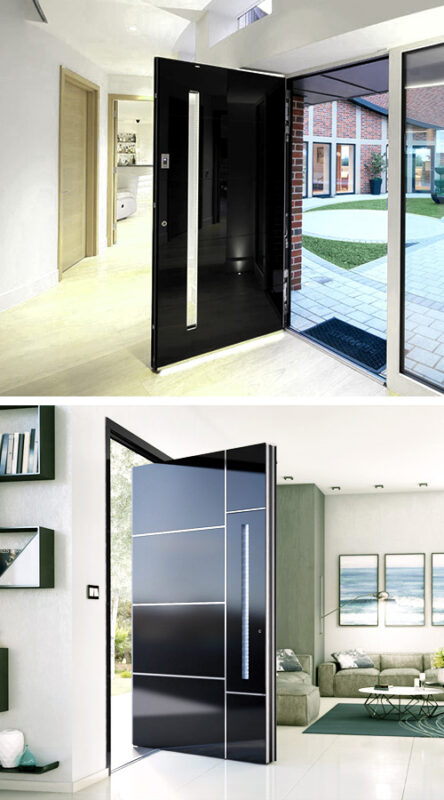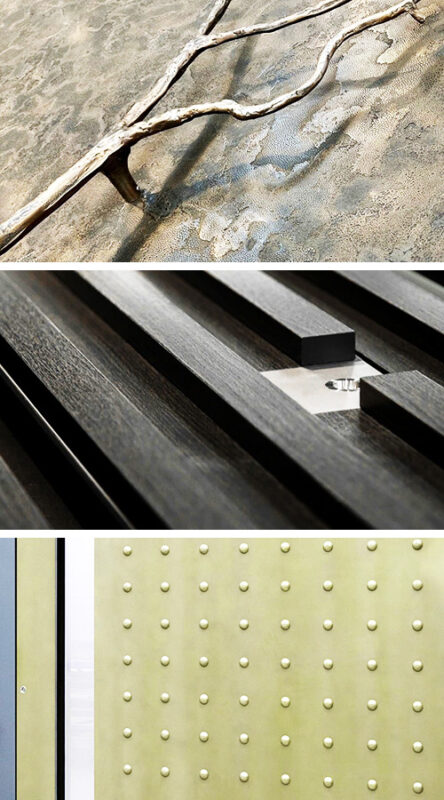 WHY ARE EUROPEAN PANEL FRONT DOORS THE BEST CHOICE FOR YOUR HOUSE?
WARM Aluminum panel FRONT doorS WITH A THERMAL BRIDGE and PIVOT ENTRANCE DOORS ARE the best ENERGY-EFFICIENT SOLUTIONS for A private house ENTRANCE
Aluminum panel entrance doors are an expensive premium solution for most customers living in small American towns, and even in such expensive cities as New York, Toronto, Montreal, Vancouver, and others. But in European countries, installing a warm panel aluminum door for the entrance of a house or villa is the most common energy-efficient decision.
The main advantages of panel entrance doors are that they are assembled based on warm aluminum door frames made of European systems Reynaers, Schuco, and Aluprof. These energy-efficient frames, in a combination with multi-chamber thermal bridges, and filled by the co-extruded panel warm casement profiles, provide the maximum level of thermal / water / sound insulation, and burglary protection, preventing condensation and heat loss.

The aluminum frames and panels are made with a zero-level drop, which creates a unique feeling of a solid structure of the door. In addition, aluminum is not vulnerable to corrosion, can be painted in any colour with stylish textures, or be covered with decorative layers of wood, glass, moulding, engraving, and metal. Also, warm triple-pane glazing can be installed inside the panel.
We offer aluminum panel doors made with all types of pull and lever handles, including flush-fitted and decorative pulls. In addition, the aluminum front doors can be equipped with LED lighting elements and access control systems (fingerprint scanners, WIFI and NFC tags, Bluetooth locks and code systems) suitable for synchronization with a "smart home" server.
GET A PRICE
OUR PROJECTS
RK PIVOT DOOR | PREMIUM
Aluminum PIVOT doors are created for those customers who consider the front door AS the face of the house
RK PIVOT doors are a premium version of aluminum panel entrance doors, assembled with a unique leaf axial fastening system that does not require door hinges. The PIVOT system allows you to ensure maximum door dimensions of up to 13 ft (4 m) in height and 8 ft (2.5 m) in width!
PIVOT entrance doors can be covered with exclusive materials such as natural stone, glass, marble, precious metals and gold. Our modern hi-tech equipment allows producing the doors even in the most sophisticated individual design.
We offer exclusive models of RK PIVOT entrance doors with installation, in Toronto, Ottawa, Montreal, and other towns of Ontario & Quebec provinces. The partner, dealer, and retail sales with the delivery without installation are available in all provinces of Canada. Pivot doors are the best investment in the future of your house.
THE WEAKNESS OF WOOD DOORS
DESPITE HIGH-ENERGY INSULATED ANALOGUES, COLD WOODEN FRONT DOORS ARE STILL POPULAR IN CANADA
Even now, some customers in North America prefer cold wooden doors for the entrance of their houses, despite the obvious disadvantages of wood, compared to warm aluminum and vinyl-metal systems.
The concept of a cold wooden door for a private house has no sense, except for its natural design. Timber frames, as a material, cannot provide long-term and high-quality insulation. That is because of wood deformation, caused by exterior temperature and moisture differences. This leads to winter condensation and water appearance near the threshold. 
In contrast, aluminum entrance doors are energy efficient, as they contain a multi-chamber thermal bridge. It cuts the system freezing path and balances the linear extension difference of the exterior and interior frame sides, keeping the frame and door leaf stable. The durability of aluminum doors is up to 50 years.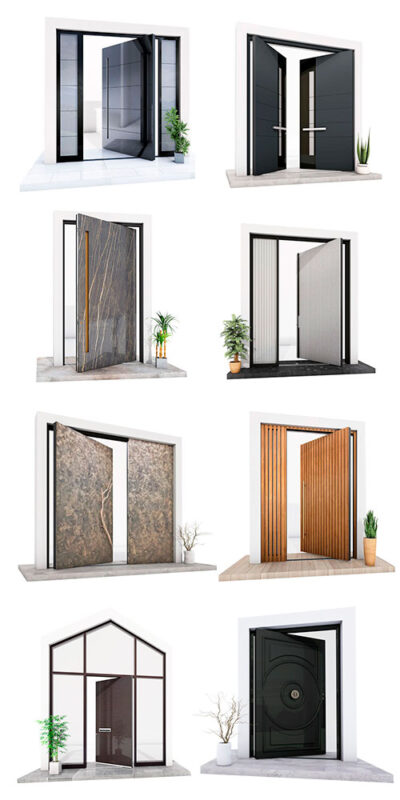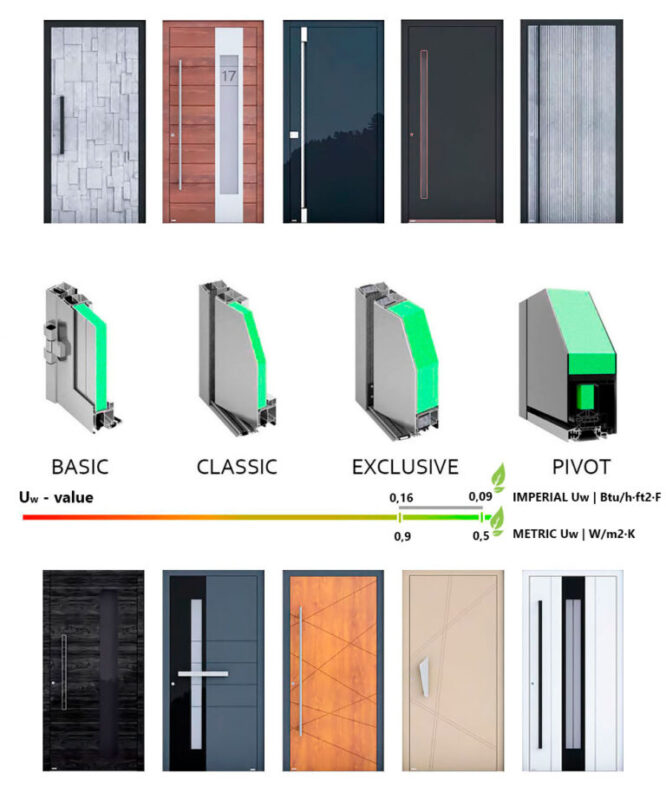 THE TYPES OF ALUMINUM PANEL FRONT DOORS
ALEX VEKA Canada | Premium European Windows & Doors | offers warm aluminum entrance doors in four main variations.
The first type is basic. This type of door is usually the cheapest of all energy-insulated aluminum front doors. The panel or glass unit is clamped with a special staple, as is fixed in standard aluminum windows. Vinyl-metal entrance doors with triple-pane glazing (or panels) are also made by this principle.
BASIC ALUMINUM FRONT DOORS | TORONTO, MONTREAL, OTTAWA
The next type is classic, which is optimal for the price. The outer part of the leaf panel is flush with the frame, while the inner part is fixed.
The Exclusive type of front door differs from the classic one. The surface of the panel and the door frame is flush on the same level from both sides. Usually, exclusive doors are equipped with expensive hidden internal hinges, locks, etc.
CLASSIC ALUMINUM FRONT DOORS | TORONTO, MONTREAL, OTTAWA
EXCLUSIVE ALUMINUM FRONT DOORS | TORONTO, MONTREAL, OTTAWA
PIVOT doors are the most gorgeous and expensive type of aluminum panel doors. They include the highest quality brand elements, fittings, handles, lighting, and internal / external coating.
RK PIVOT FRONT DOORS | TORONTO, MONTREAL, OTTAWA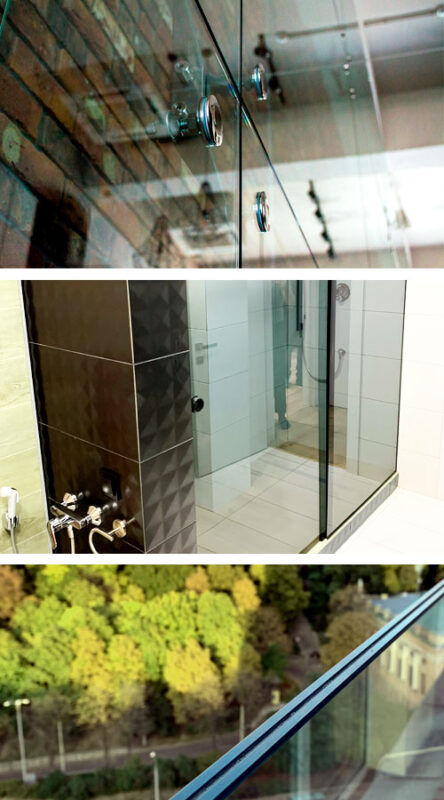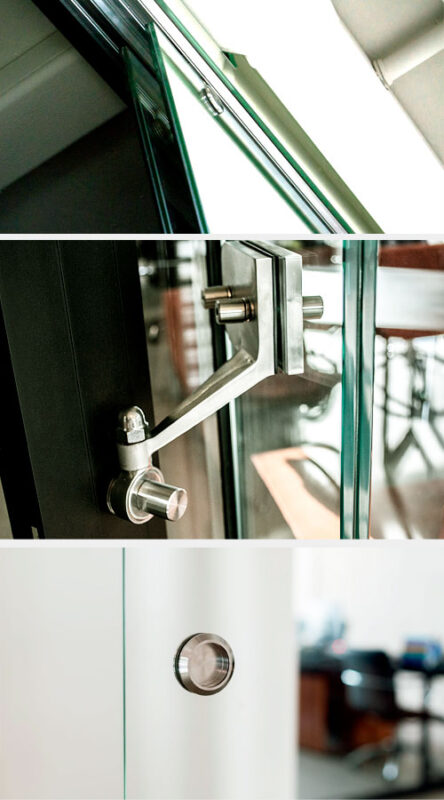 FRAMELESS TEMPERED & LAMINATED GLASS
Sliding, folding and fixed systems of frameless glazing. Internal sliding glass partitions, glass railings and barriers. Professional GLASS terraces
Frameless tempered and laminated glass systems are the trending know-how and a sign of the high status of any house, villa, or commercial building. It fits any object of any purpose. It is provided with special aluminum profile systems, holders, and fittings.
Frameless glazing systems have gained huge popularity due to their relative simplicity, incredible design, and safety of use (tempered glass is safe to use for children and adults). We offer high-quality European laminated and tempered glass with installation, for wholesale prices in Toronto, Ottawa, Montreal and other cities in Ontario and Quebec provinces.

The most demanding objects of each house are terraces, patios, balconies, and sunrooms, made of tempered safety glass. The design of each patio is unique. That is why, if your dreams about a sliding glass terrace have a chance to become true, call our specialists and invite them. We will design and select the best solution for you, using sliding, folding, rotary and fixed glazing systems, systems by wholesale prices.
GET A PRICE
OUR PROJECTS
EUROPEAN TEMPERED GLASS
HIGH-QUALITY TEMPERED glass is achieved by strict compliance with EU technological standards, and modern robotic EQUIPMENT
Contrary to common stereotypes, tempered and laminated glass is different in quality, because it is sensitive to the level of its purification, production, tempering, and processing technologies.
The microparticles of metals inside the glass can provoke the formation of microcracks, even from the slightest temperature drops. That leads to spontaneous glass breakage.
For tempering and processing, we use quality raw clear glass from the best European suppliers Saint Gobain and EuroGlass. The glass undergoes additional cleaning, washing, cutting, and tempering in a high-tech furnace. After cooling, it passes the end grinding, satin finishing, perforation, and countersinking, on Austrian robotic equipment according to high-precision program parameters.
EUROPEAN GLASS RAILINGS
THE LAMINATION OF RAW AND TEMPERED GLASS, MAKES IT THE RELIABLE SAFE BASE FOR high-rise GLASS FENCES, RAILINGS, BALUSTRADES AND WIND BARRIERS
Multi-layer transparent or painted laminated glass is a safe and reliable material for railings, wind barriers, and glass fences, even for high-rise objects. Moreover, laminated tempered glass is used for premium glass floors, stairs, covers, and glass roofs.
A wide range of accessories is available for wholesale and retail orders. We can satisfy even the most sophisticated interior/exterior design demands, by using frameless glass with multi-point, spider, profile, and overlay fixation. Some systems can also be equipped with electric motors for automated usage.
ALEX VEKA company offers you high-quality sliding patios, railings, and other glass systems made of safety glass in Toronto, Ottawa, Montreal, Vancouver, Calgary, Edmonton, and other cities/towns of Canada. We provide direct service with the installation in Ontario and Quebec regions. The dealer program is available in all regions of Canada.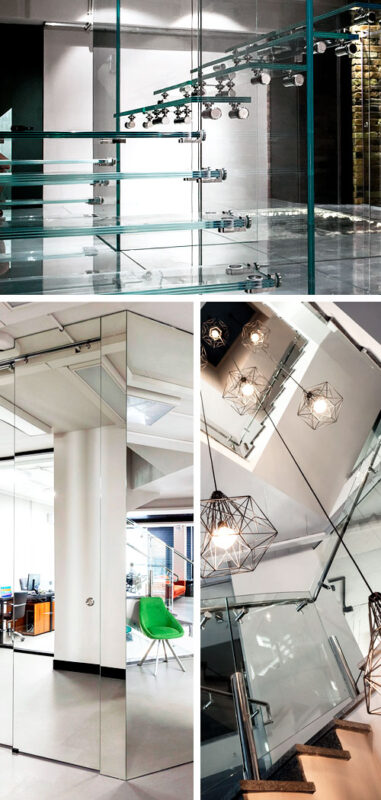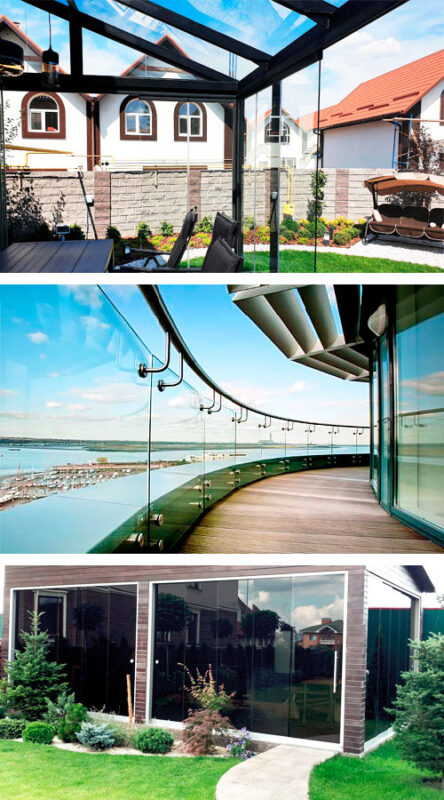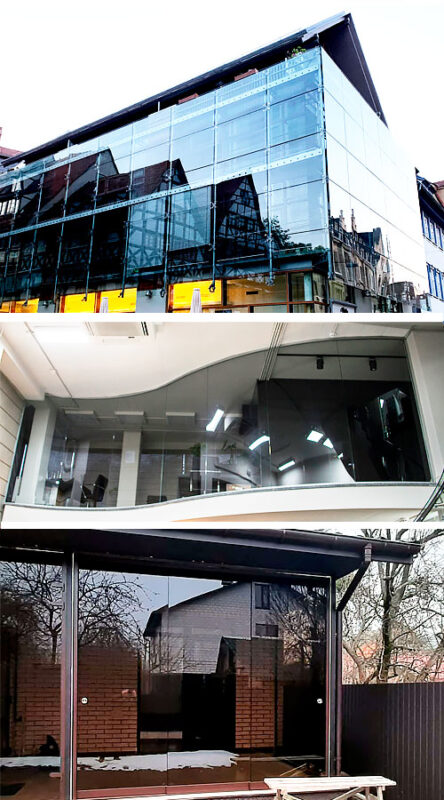 FRAMELESS INTERIOR GLASS DOORS, SHOWER AND OFFICE GLASS PARTITIONS
ALEX VEKA offers high-quality frameless glass doors and partitions for the office, restaurant, house, condo, bathroom and other purposes. We offer you a wide range of affordable design solutions, such as bulk-painted glass, "milky", "deep black", mirrored laminated glass and many other options.
GLASS DOORS | TORONTO, OTTAWA, MONTREAL
A large assortment of furniture and fittings is also available for the installation of shower glass panels, doors, partitions, and railings in a HI-TECH, LOFT, and classic design.
Call our managers and ask how to get the wholesale price for European high-quality tempered and laminated glass products.
SHOWER GLASS PANELS | TORONTO, OTTAWA, MONTREAL
OFFICE GLASS PANELS | TORONTO, OTTAWA, MONTREAL
ALEX VEKA PREMIUM | DIRECT FACTORY IMPORT OFFICE IN CANADA | TORONTO, OTTAWA, MONTREAL
European energy-efficient windows and doors are the best investment in your future. Energy saving construction trend will make high-insulated windows an essential feature for selling any house in the nearest future
ALEX VEKA company provides a unique service in the innovative automatic manufacturing and fast reliable shipping of premium quality European glass systems to Canada. As a direct factory office, we provide insurance and a limited factory warranty for each order.
We are a reliable partner, strictly following European and North American quality standards and time limits. The production capacity, modern automated machinery, and high-qualified personnel allow us to process orders of any quantity.
Whatsapp
FB
E-maIL

LOCATION: OTTAWA, ONTARIO, CANADA
48 Holborn Ave, Nepean, ON K2C 3H1
MON-FRI: 09.00 -16.00 (EASTERN TIME EST/EDT).
The office is working online.
Google Maps Rate: 4,8 ★★★★★ 42 Google reviews
(343) 202 68 58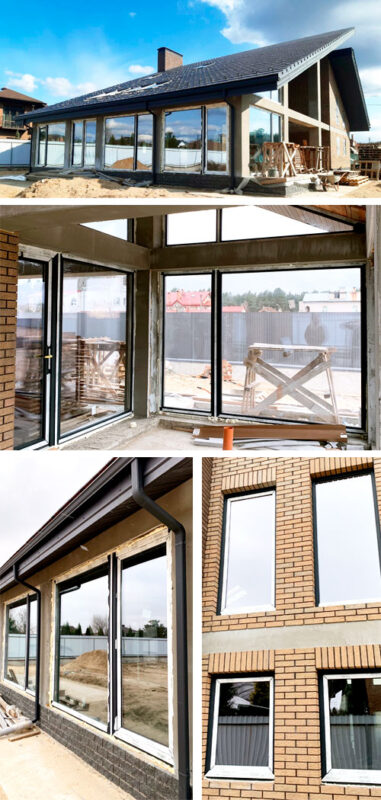 VIDEO | ALEX VEKA PREMIUM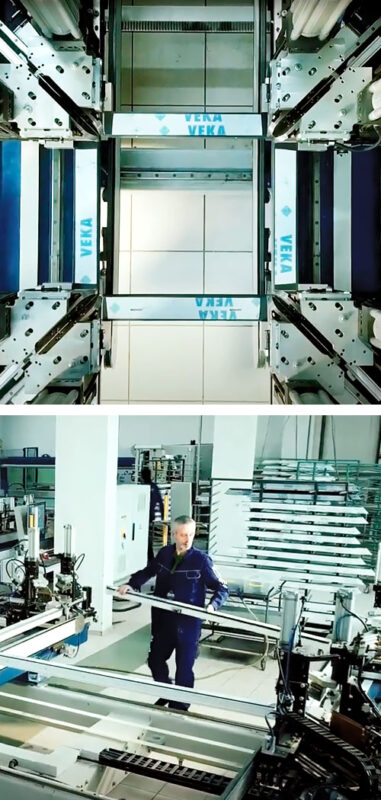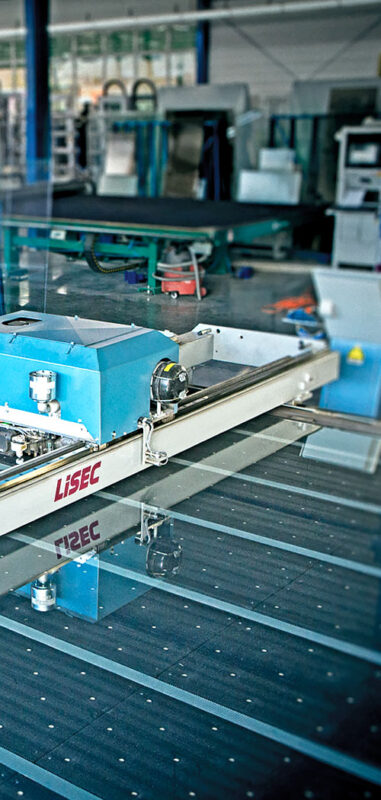 WHY US? | COOPERATION BENEFITS
We offer premium quality fast manufacturing of vinyl, frameless, and aluminum products for a 1-2 month period, and fast reliable shipping in 2 months. 10 years of limited warranty is included.
ALEX VEKA company assembles glass production using technologically progressive, automatic, and precise machinery with a minimum of handwork and human factor mistakes. That makes our European windows and doors comfortable to use and durable, with a warranty of up to 10 years period.
Only the world's leading and most reputable components are used for assembling ALEX VEKA Premium European windows and doors.

We offer 30% lower prices, including the delivery costs, for windows and doors, which are similar to local Canadian samples, by the assembling width and configuration.
Despite the long-distance shipping, we complete orders for a similar manufacturing and delivery time.
We are always open to providing you with the best service in glass constructions planning, visualization, price calculation, and installation recommendations, to create for you a deep understanding of glazing features and to help you to make the best choice for private and corporate buildings and save money for heating these buildings in the future.
BECOME A PARTNER
CONTACTS